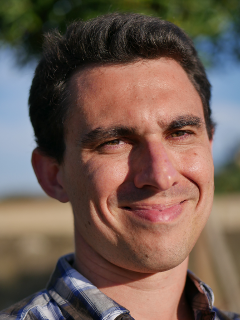 Arthur Leclaire
PhD, Associate Professor
in Applied Mathematics and Image Processing
Office :
251
Address :
Institut de Mathématiques de Bordeaux
Université de Bordeaux
351, Cours de la Libération
F 33 405 TALENCE

Email :
firstname.lastname@math.u-bordeaux.fr
Position
I am an Associate Professor ("Maître de conférences") at Institut de Mathématiques de Bordeaux.
News:
(04/2022) Samuel Hurault will present our paper on Plug-and-Play image restoration at ICLR'22.


(05/2021) Antoine Houdard will present our work about texture synthesis with generative networks at SSVM'21.


(09/2020) Samuel Hurault is starting a PhD on plug-and-play image restoration. Welcome Samuel!


(02/2020) The Python source codes of Texto Project have been released on a Git repository.


(10/2019) The Matlab source codes of multi-layer semi-discrete optimal transport have been released here.


(09/2019) Project Rémoga has been accepted! This is a "Young Researchers Project" of GdR ISIS about Generative models with regularized Wasserstein distances, in collaboration with Antoine Houdard, Maxime Sangnier, and Ugo Tanielian.


(07/2019) ANR Project PostProdLeap, headed by Aurélie Bugeau has been accepted!


(07/2019) ANR Project Mistic, headed by Hermine Biermé has been accepted!


Research topics:
Mathematical Image Processing
Random fields
Texture modeling, analysis and synthesis
Optimal Transport
Image restoration